Nowadays, grinders have become an essential part of your kitchen life.
Could you imagine a kitchen without a grinder?
No, right, because the grinder makes the physical work easy, just with a switch.
A Table Top Wet Grinder is mainly used in Indian cuisine, consisting of granite stone for grinding food grains to produce batter or any paste. The wet grinder has made work so easy that we have to do nothing that our grandmother used to do.
Every one of us has a Mixer Grinder at home, and we know that it uses pair of steel blades to grind the ingredients. But Wet Grinders literally uses pair of stones to grind the ingredients similar to traditional stone grinders.
The wet grinders are becoming more demanding products in the market, but there are some products with major flaws, but you don't have to worry about it as we have brought you the 6 Best Wet Grinders in India 2024 list. We have researched and picked some wet grinder with mind-boggling performance and a good amount of reviews on this list.
Things to know before choosing the Best Wet Grinder
CAPACITY: The first and foremost thing to look at is the capacity; the minimum capacity for a wet grinder should be 1 Kg. More than is always good because a small-sized wet grinder won't work as efficiently as a grinder whose capacity is more than 1 Kg.
STONES SHAPE: There are two different types of stones one is cylindrical and the other is a conical shape. After the research and reading the suggestion of the experts the conical shape grinder gives better performance than the cylindrical one. Because the cone doesn't leave any room for the batter.
DRUM MATERIAL: The drum is one of the essential aspects of a wet grinder, and the drum material should be of good quality if you want your wet grinder for longer runs. The stone inside the drum is highly recommended to opt for stainless steel drums.
HEATING ISSUE: The wet grinder which heats less are more prone to work for longer hours. So the best wet grinder would be the one that generates less heat while stone grinding.
So with these 4 points as a buying guide, I hope you have understood what it really requires in a wet grinder for Indian cooking. I have reviewed the Top 6 Best Wet Grinder in India right now which will help you the best option available online.
6 Best Wet Grinders in India 2024
| Best Wet Grinders | Capacity | Stones Shape | Best Buy Budget | Price List |
| --- | --- | --- | --- | --- |
| DGMR ENGG WORKS 150W Wet Grinder | 2L | Cylindrical | Under 3000 | Check on Amazon |
| Elgi Ultra Dura+ Table Top Wet Grinder | 1.25L | Conical | Under6500 | Check on Amazon |
| Panasonic MK-GW200 Super Wet Grinder | 2L | Cylindrical | Under6500 | Check on Amazon |
| SOWBAGHYA Edge 150W Wet Grinder | 2L | Cylindrical | Under3500 | Check on Amazon |
| Butterfly Smart Wet Grinder with Coconut Scrapper | 2L | Cylindrical | Under6500 | Check on Amazon |
| Elgi Ultra Micro Wet Grinder | 1.25L | Conical | Under7000 | Check on Amazon |
DGMR ENGG WORKS 150W Wet Grinder (2L)
DGMR is serving people for many years without any complaint. The company was established in the year 2007 and providing leading machines in the food industry; this is an Indian company. The DGM Engg is made of supreme quality, and the robust structure is designed with keeping modern techniques in mind. These products have been in high demand by many people.
If you are looking for a budget wet grinder, then DGMR ENGG WORKS is the best wet grinder under 3000 in India.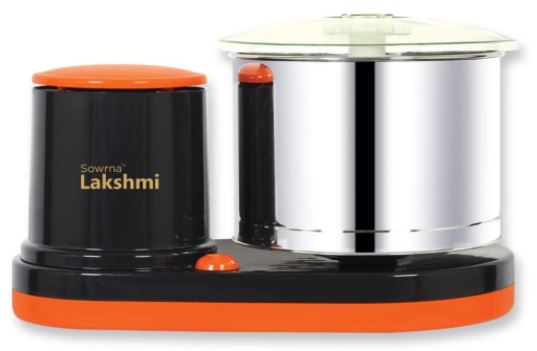 Let's have a detailed look at the DGMR ENGG WORKS 150W Wet Grinder features.
Design
The DGMR comes in a black and orange combination, and the stone grinder comes in stainless steel finish which gives it a professional look and can adapt to your kitchen fashion quickly. It comes with one-two Litres of table top grinder and one grinding stone, which can grind almost everything, i.e. cereals, spices, etc.
Motor
The motor comes in the dimensions of 50.8 cm, 29.21 widths, and 30.48 cm of height, and the item weighs around 12 Kilograms. The motor comes with 150W, which is highly efficient with durable grinding stones; the motor overload protector function gives fine surface finish Spatula for mixing batter. Due to high motor, the product is also used in both home kitchens and restaurants.
PROS
Easy to clean.
Noiseless grinding.
One year warranty.
CONS
Elgi Ultra Dura+ Wet Grinder (1.25L)
The Elgi Ultra Dura wet grinder comes in stunning white colour with a blue lid which looks impressive. Elgi Wet Grinders are among India's best. This model is also one of the easiest to use wet grinders on the market in India. This wet grinder is one of the most durable models in the country, in addition to ensuring a thoroughly professional job.
If you got a good budget for a table top wet grinder, Elgi Ultra Dura+ is the best wet grinder under 6500 in India.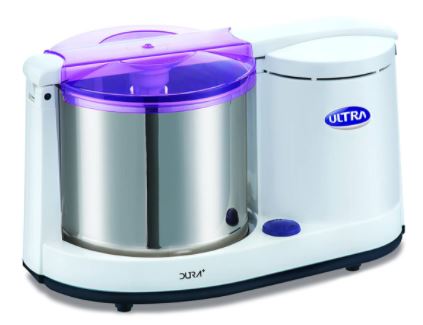 Let's have a look at features.
Design
The body is made of ABS plastic which is highly durable and lightweight. The Elgi Ultra Dura wet grinder takes less space as it has a compact design. The grinder is equipped with ASIS stainless steel drums, and the main advantage is these drums are rust-free, and the batter can be stored easily for a long time. The product comes with a capacity of 1.25 Litres, and the item weighs around 8 Kg or 800 grams.
Power
The model has a 2200V or 85 Watt of heavy-duty motor, which is very durable and produces very little noise and vibrations. The motor keeps the same pace for a more extended period without heating. The grinding time of different dal is mentioned below.
Urad dhal: Approximate 25 to 30 minutes of grinding.
Rice: 4 hours of grinding for the fine batter.
Other: 30 to 45 minutes, and your batter is ready.
Conical Stones
It has conical grinding stones that generate less heat while grinding, resulting in a higher fermentation rise. It means you can enjoy soft and fluffy idlis with high efficiency and excellent engineering.
PROS
Multipurpose drum.
Easy to clean.
Lightweight
Batter remover
Five year warranty.
CONS
A slight varnish smell on the first use disappears after the first use.
Panasonic MK-GW200 Super Wet Grinder (2L)
Panasonic is one of the leading brands in India. The products of these brands are highly recommended especially in India. For this purpose, we have brought you the Panasonic MK-GW200 super wet grinder and is highly recommended. The wet grinder is designed to do most complex tasks with ease. And keeping in mind the multipurpose aspect, we have kept this product on the list.
Panasonic is one the best wet grinder brand in India, and so priced quite high around 6500 bucks.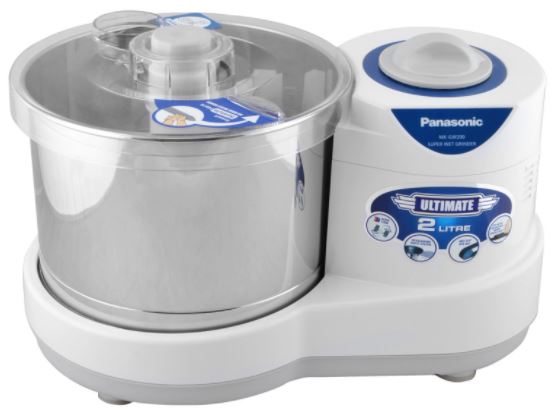 Lets look into the features that it provides.
Design
The product comes in fantastic colour contrast, and a combination of white and metallic colour gives it an authentic look. The dimensions are as follows: 49 cm in length, 30.2 cm in width, and 33 cm in height and capacity of 2 Litres. The steel quality grade is SS304, the perfect companion for your kitchen.
Power
It has 240 Watts, 230 volts of motor, which is highly efficient and can get your work done quickly in the given time. The grinder comes with a roller, lid, measuring cups, and a spatula.
Transparent Lid
The transparent lid work as two in one function, which allows you to see while grinding the ingredients, and in case if you feel any issue, you can immediately stop the grinding.
PROS
Powerful motor.
Easy to handle.
Transparent lid.
Safety lock.
CONS
Slightly bigger for family use.
SOWBAGHYA Edge 150W Wet Grinder (2L)
On the fourth number, we have the Sowbaghya Edge wet grinder. The wet grinder is available in three different colours, i.e. Maroon, Pink, and Violet. My favourite is the pink one because it easily adapts to your kitchen. It is made to complete the challenging task that we face day-to-day in our kitchen. The stone is made of high quality and provides a reliable grinding experience. The key features of the Sowbaghya Edge 150W Wet Grinder are mentioned below.
This is one the best wet grinder for budget of under 3500 rupees in India.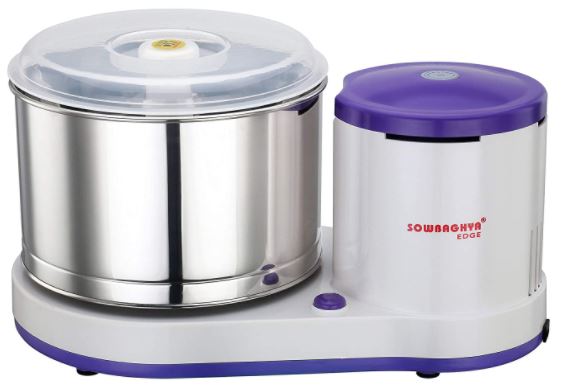 Below are the features of this wet grinder.
Design
The drums are made of stainless steel which gives it a chrome finish look. This designed ABS body with a body cooling/ ventilation process keeps the motor and drums cool while grinding. The capacity of the drums is 1 kg for raw rice and 2 Litres of batter.
Motor
The motor comes with 150 Watt, which is very powerful when combined with the grinding stone. The single-phase motor has run 1440 rpm, with less vibration and shockproof works very efficiently and silently even when used on full load.
Grinding stone
The stone provided with the product is of very high quality, making your batter softer and giving you fluffy dishes. The stone is removable, which makes it easy to clean and put back in the right place.
PROS
Removable stone grinder.
Easy to clean.
Transparent & unbreakable lid.
Compact Design
CONS
Kneader and Coconut scrapper is not provided.
Butterfly Smart Wet Grinder with Coconut Scrapper (2L)
In the list of best wet grinders in India 2021 comes the Butterfly Smart Wet Grinder one of the renowned brands for primarily providing amazing products at low prices. The Butterfly wet grinder is mainly known as a table wet grinder. A Butterfly table top wet grinder is a smart solution to your kitchen, which enriches your kitchen and gives a professional feel to you and your kitchen.
Butterfly is well known brand in kitchen tools and is fairly priced under 6500 rupees in India.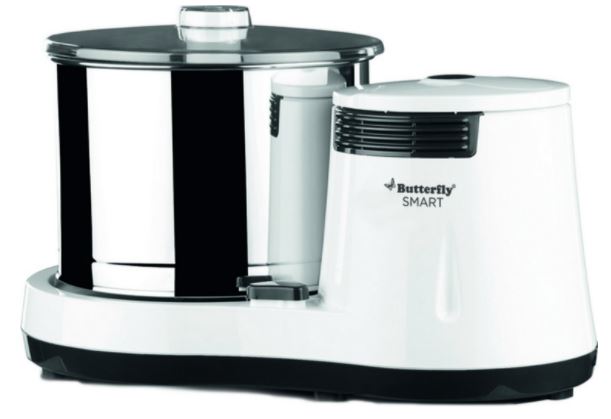 Lets dive into some features.
Design
As usual, Butterfly products give the best and aesthetic design within the budget price range. Here, the wet grinder stands out of the box. The ABS plastic body is shockproof and has fewer heating issues. The plastic is tough enough and doesn't break easily. The item comes in black and white with a glossy stainless steel drum. The cylinder holds a capacity of 2 litres and makes a soft and smooth finish.
Ventilator
The motor available here is 240 V with 1300 RPM (Revolution Per Minute), and as it has a powerful motor, it comes with an excellent ventilation design to avoid overheating issues. The ventilation does a fine job to circulate the air throughout the table top grinder. The motor is covered with plastic of high quality, which holds and protects the motor.
Performance
The performance pretty good with the 240 V of the motor combined with the efficient two cylindrical stones makes the batter softer. The stone provides a perfect grinding experience. The coconut scraper and dough kneader comes in the box and is very handy and simple to use maximum efficiency.
PROS
Uniform grinding
Easy to clean.
Powerful motor
4000+ ratings on Amazon India
CONS
Elgi Ultra Micro Wet Grinder (1.75L)
As one of the Elgi products is mentioned already in the list, but the one is also the best in the range of 1.75 Litres table top grinder with over 200+ ratings on Amazon India with an average rating of 4.3. If you want a wet grinder with more capacity than the Elgi Ultra Micro 1.75-Litre Wet Grinder can be the choice for you.
The compact wet grinder can easily store at any corner of your kitchen. The item comes with proper attachments such as a coconut scrapper and kneading accessory for fine mixing of Atta and dough.
With the best quality and performance, Elgi Ultra Micro wet grinder is the best table top wet grinder under 7000 in India.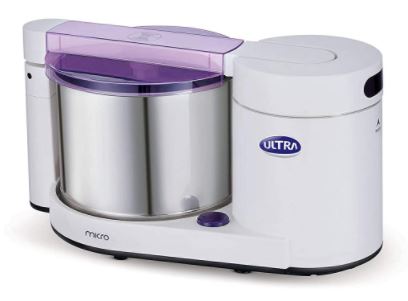 Below are the features to look for.
Design
The ultra-durable grinder is made of ABS stainless steel drums. These drums are rust-free and can store anything inside them for a long time without spoiling the edible material. The transparent purple lid combined with white colour gives a sleek look to it, and the stainless steel drum finish completes the product. The product dimension is 47 cm in length, 25.1 cm in width, and 27 cm in height.
Large Capacity Drums
The Elgi Ultra Micro Wet Grinder comes with a large capacity of 1.75 litres. For a family with more members, this is the perfect fit for you as you can get a large quantity of batter at one time. It also saves energy as you don't grind multiple times for large amounts.
Performance
The Company offers powerful 85 Watts of motor for clean and precise grinding. The motor keeps an equal pace and power for all quantity even with the heavy duty motor. The conical shape grinding stone gives soft fluffy idlis and crispy dosa batter by generating less heat.
PROS
Large quantity.
Even grinding
Silent performer
5 years of warranty.
CONS
Little heavy
The Locking mechanism is hard.
No spatula
Final Words
After reading the buying guide, you might have an idea of what things to observe while purchasing a wet grinder or table top wet grinder. It is necessary to know your needs before buying.
After all, it depends upon your flavour and preferences. Investing some time in selecting the best wet grinder to buy can save you from a lot of difficulty and money. Also, it will consume your precious less time too.
But if you ask me, I would divinely recommend DGMR ENGG WORKS 150W Wet Grinder, and if you want a large drum and you can spend some extra money, then Butterfly Smart Wet Grinder is recommended.